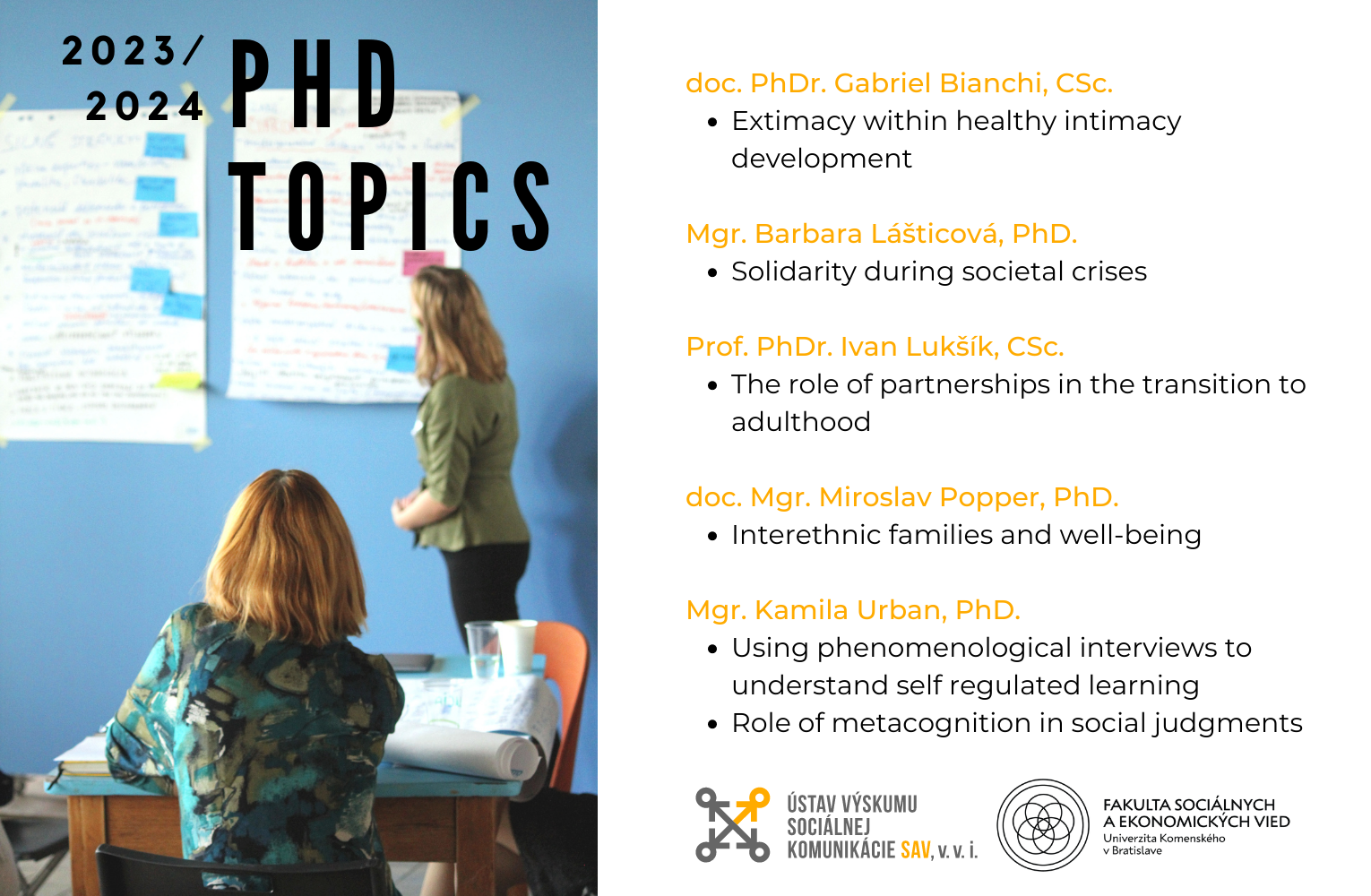 This doctoral programme is a joint programme between the Institute of Applied Psychology, Faculty of Social and Economic Sciences of Comenius University in Bratislava, and the Institute for Research in Social Communication at Slovak Academy of Sciences. PhD students do their coursework and assist in teaching at the Institute for Applied Psychology, while being involved in research projects and activities at the Institute for Research in Social Communication.
In case you are interested to apply for PhD. studies, please contact one of the project supervisors first. Deadline for submitting the application is 30th of April 2023 (first round) or 15th of August 2023 (second round, in case of vacancy).
Contract type: PhD scholarship for 3 years, €915,50 per month rising to €1 066,00 per month after the project proposal defense.
Start date: September 2023
doc. PhDr. Gabriel Bianchi, CSc. / bianchi@savba.sk
Extimacy within healthy intimacy development
Mgr. Barbara Lášticová, PhD. / barbara.lasticova@savba.sk
Solidarity during societal crises
Prof. PhDr. Ivan Lukšík, CSc. / luksik@savba.sk
The role of partnerships in the transition to adulthood
doc. Mgr. Miroslav Popper, PhD. / miroslav.popper@savba.sk
Interethnic families and well being
Mgr. Kamila Urban, PhD. / kamila.urban@savba.sk
Using phenomenological interviews to understand self regulated learning
Role of metacognition in social judgments
Detailed information about dissertation topics can be found here.