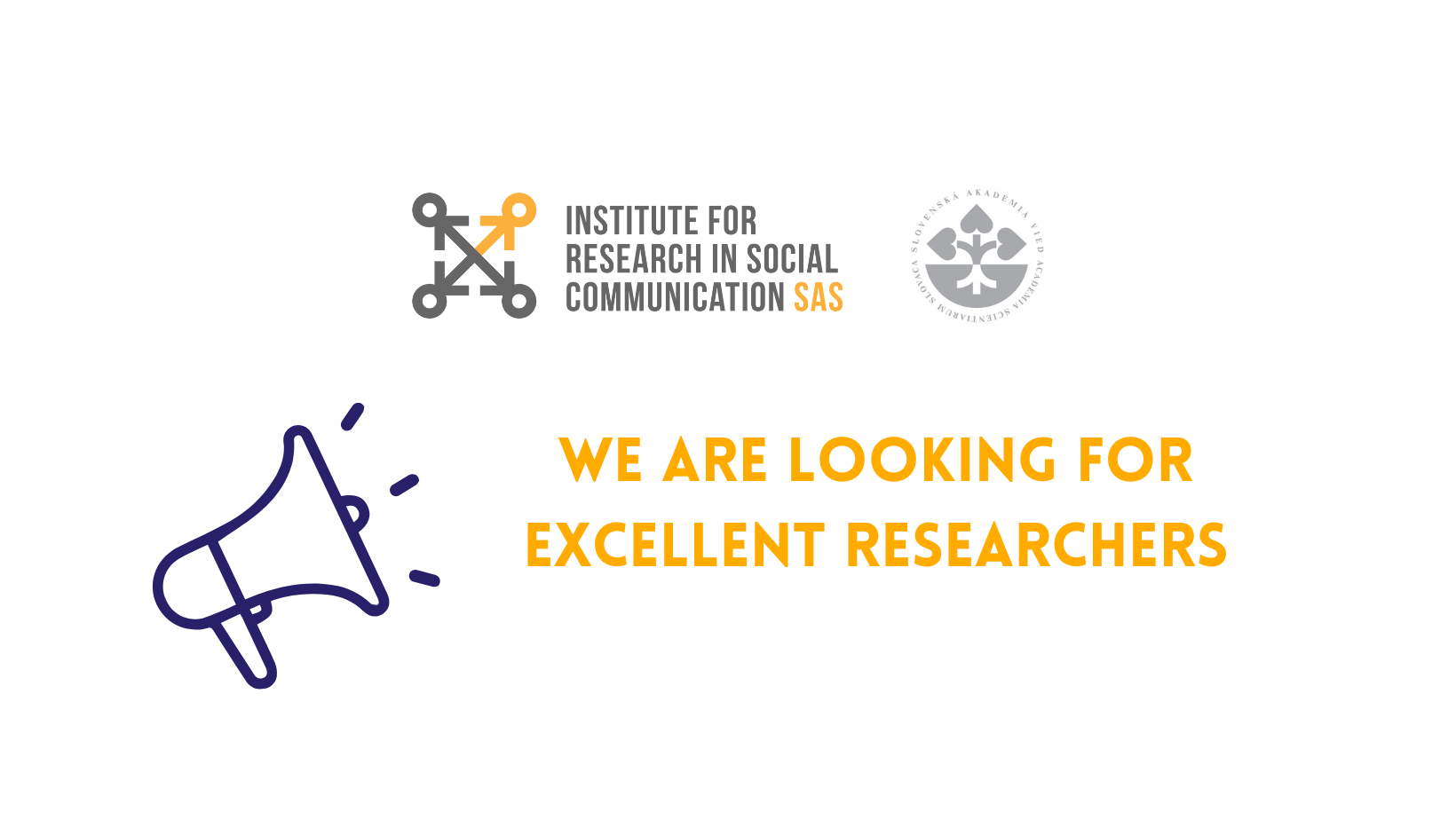 The Institute for Research in Social Communication of the Slovak Academy of Sciences (SAS) is looking for excellent researchers in the career stages R2-R4, for a position funded from the Recovery Plan for Europe funded scheme "Stipends for excellent researchers R2-R4" and starting in early 2024 or later. The position is for a fixed term of up to 2 years, with the possibility of extension, depending on available project funding.
More information about the scheme is available here: https://vaia.gov.sk/sk/2023/06/27/stipendia-pre-excelentnych-vyskumnikov-a-vyskumnicky-r2-r4/
We are a leading research institute in Slovakia, focusing on social and educational psychology. In 2022, we were rated as one of Europe's top performers in an international evaluation of SAS, with a grade of A/B.
We are primarily looking for colleagues with a background in psychology or related disciplines, and with an interest in intergroup relations and social identity, partner/intimacy/sexuality-and-family relations and/or psychology applied to the field of learning and literacy. Proficiency in Slovak is not necessary. The ability to write scientific texts in English is required. The successful candidate should have a profile in accordance with the "Stipends for excellent researchers R2-R4" criteria.
Please send a structured CV in Europass format, a list of publications and an extended project abstract of no more than 2 pages (in accordance with the Stipends for excellent researchers scheme project structure) to the Secretariat of the Institute (uvsk@savba.sk) by 28 August, 2023, 2PM CET at the latest.
The expected date of the online interview is the first week of September. The successful candidate(s) selected by the selection committee will take part in the Recovery Plan for Europe application that is due on 28 September, 2023. Please, note that the candidate is responsible for the project preparation, but it is the Institute who officially applies for the grant at the Research and Innovation Authority (VAIA) who administers the scheme. Only those who are awarded the funding by VAIA are ultimately eligible for the position.
The starting gross monthly salary will be set in accordance with the "Stipends for excellent researchers R2-R4" scheme, based on the career stage. We offer performance bonuses based on publication outputs.
Please, contact Dr. Barbara Lášticová at barbara.lasticova@savba.sk for more information about the position.