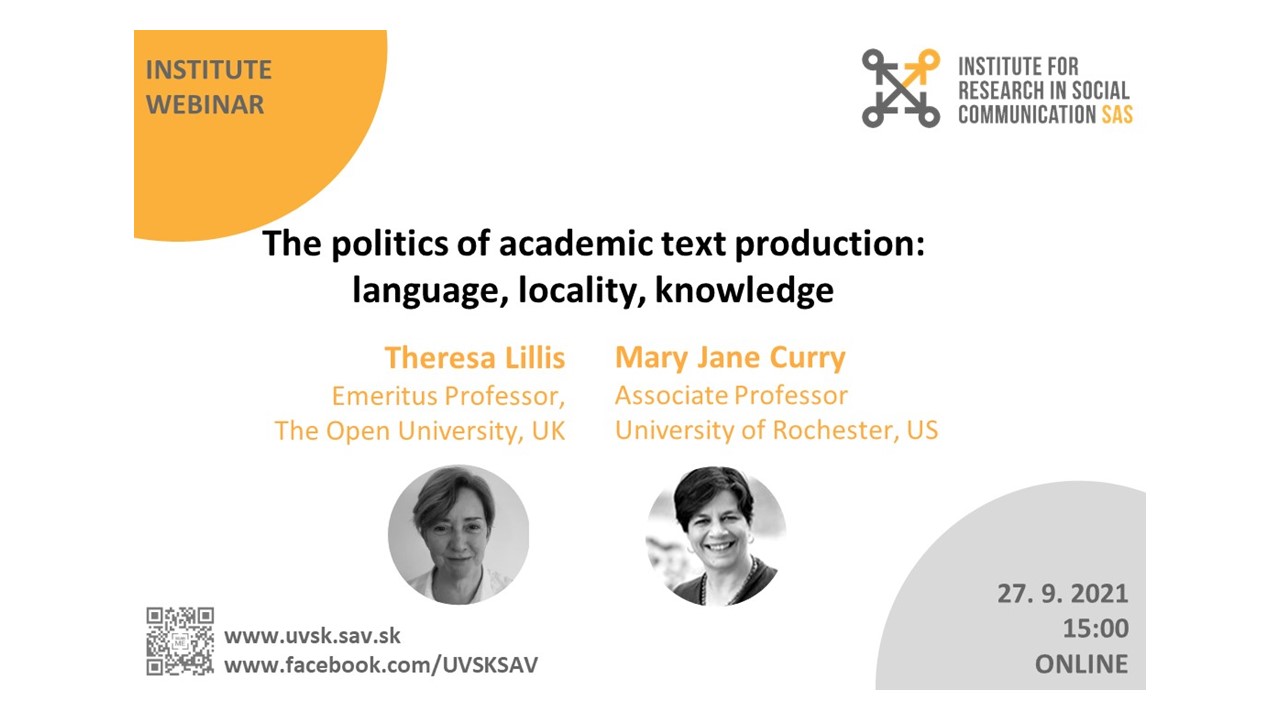 Join us on our next institution webinar "The politics of academic text production: language, locality, knowledge" by Theresa Lillis, Emeritus Professor (The Open University, UK) & Mary Jane Curry, Associate Professor (University of Rochester, US). Webinar will be in English, and it will focus on the presentation of main findings of authors' longitudinal research of academic writing in international context.
Registration:
Webinar will take place on 27.9.2021 at 15:00. In case you would like to attend, please fill out the registration form.
About the webinar:
This presentation centres on a longitudinal research project, Professional Academic Writing in a Global Context (PAW) which explores the writing for publication practices of 50 psychology and education scholars, based in four distinct national contexts, Slovakia, Hungary, Spain, and Portugal. The project has involved extensive data collection over 20 years including interviews, observational and textual data centering on scholars' experiences with, and perspectives on, their writing of English-medium texts for publication.
The presentation will offer a brief summary of key findings followed by a focus specifically on the following question: does the 'language' or 'English' of an article submitted for publication play a significant part in 'uptake', that is, in shaping reviewers' and editors' responses and evaluation. Drawing on 95 'text histories' from the PAW project we will analyse the language ideologies enacted in referees' and editors' comments on articles submitted for publication in English-medium 'international' journals. We will consider how orientations to 'English', 'language' and 'language work' are enacted in practices of reviewer uptake and the consequences of such practices for knowledge production, evaluation and circulation.

Webinar recording is available on our youtube channel: