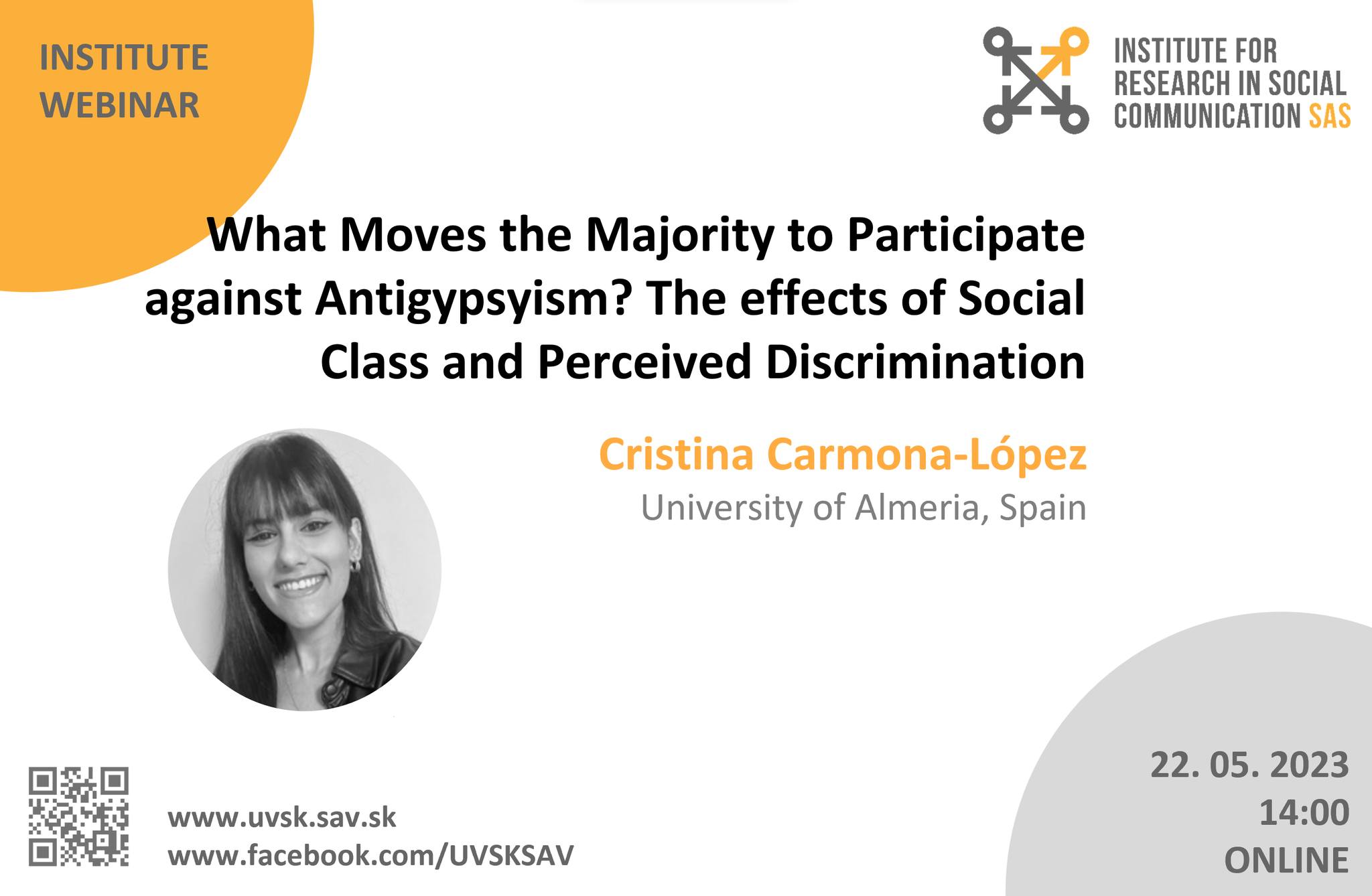 We cordially invite you to attend the Institute Seminar entitled "What Moves the Majority to Participate against Antigypsyism?", where our visiting PhD student will talk about her dissertation on the participation of the majority in antigypsyism.
Please feel free to pass this information on to your colleagues.
The seminar will be in English and it will take place online. If you are interested in participating, please fill out the simple form: https://forms.gle/5MABCGa6A4fodyqA7
On the day of the seminar, you will be sent Zoom meeting access details. The maximum number of participants outside of the institute is 50 people.
---
What Moves the Majority to Participate against Antigypsyism? The effects of Social Class and Perceived Discrimination
Cristina Carmona-López, University of Almeria, Spain
Monday 22.05.2023, 14:00 – 15:30 CET, online
In two experimental studies (NS1=190 and NS2=870), we manipulate the social class (low vs. medium-high) and the perceived discrimination (low vs. high) of a Roma young woman and their influence in the participation in collective actions against anti-Gypsyism and in emotions toward Roma people and their current situation in Spain, as well as stereotypes. We also explored how emotions can mediate between the perceived discrimination and collective actions. Results showed in both studies that the perceived discrimination and its interaction with social class were not significative in the tendency of participation in collective actions. In fact, the participants that were assigned to a low social class condition showed more negative attitudes to Roma people than the ones assigned to a high social class condition. Exploratory results showed a positive mediation between perceived discrimination and collective actions via the emotion of pity toward Roma people and via the emotions of outrage and anger toward the situation of Roma.